PERSISTENCE: I had to wait 8 hours to rip into the Democrats' new Pay-Per-Mile Tax bill (that's how desperate they were to stop anyone from testifying against it — they dragged it out over 2 days). But when it was finally my turn to testify, I tore into it, ripped into them, and promoted $30 Tabs. Watch this brief clip (it'll make you smile).
Fri, Feb 24, 2023

To: Our thousands of supporters throughout the state
(cc'd to the media, house & senate members, and Governor, and other candidates for office)

From: Tim Eyman, Fighting for Taxpayers for 26 years
So the hearing on the bill was scheduled on Tuesday at 1:30pm.
I and others sat there for 4 1/2 hours waiting to testify on House Bill 1832 that imposes the Democrats' new Pay-Per-Mile Tax.
As we waited, the Democrat chair allowed lobbyists and legislators to testify on every other bill but this one.
After 4 1/2 hours of waiting, he announced "there's no time left for anyone to testify on HB 1832 so we'll give you another chance at a later hearing."
We received an email on Wednesday that told us we had to sign up again to be testify on it and that the hearing on the bill would be at noon on Thursday (yesterday).
So we signed up (again).
And for 3 1/2 hours, we sat there waiting to testify against HB 1832.
Other bills were handled first.
Again after 3 1/2 hours, the bill was finally made available for public testimony.
I waited another 30 minutes for my name to be called.
They wanted to break us.
We didn't.
The Democrat chairman allowed the government-paid crazies to testify first.
And not surprisingly, they were totally IN FAVOR of this new Pay-Per-Mile Tax because it would become a slush fund that the Legislature could spend on anything (especially the government-paid crazies that testified for it).
Then several of "our guys" then testified that they're also IN FAVOR of the Democrats' new Pay-Per-Mile Tax but only if the Democrats "promised" that it'd only get spent fixing roads (you and I know that this new tax will NEVER replace the gas tax, it'll only be IN ADDITION TO the gas tax).
I took a very different approach (click on this image to watch my very brief testimony): 
If that doesn't work, click here to watch it.
I was especially proud that when I was finished, the chairman said "Mr. Eyman, you're on the borderline."
My point is/was this: until they respect our vote for $30 Tabs, we can't trust them with new taxes or fees.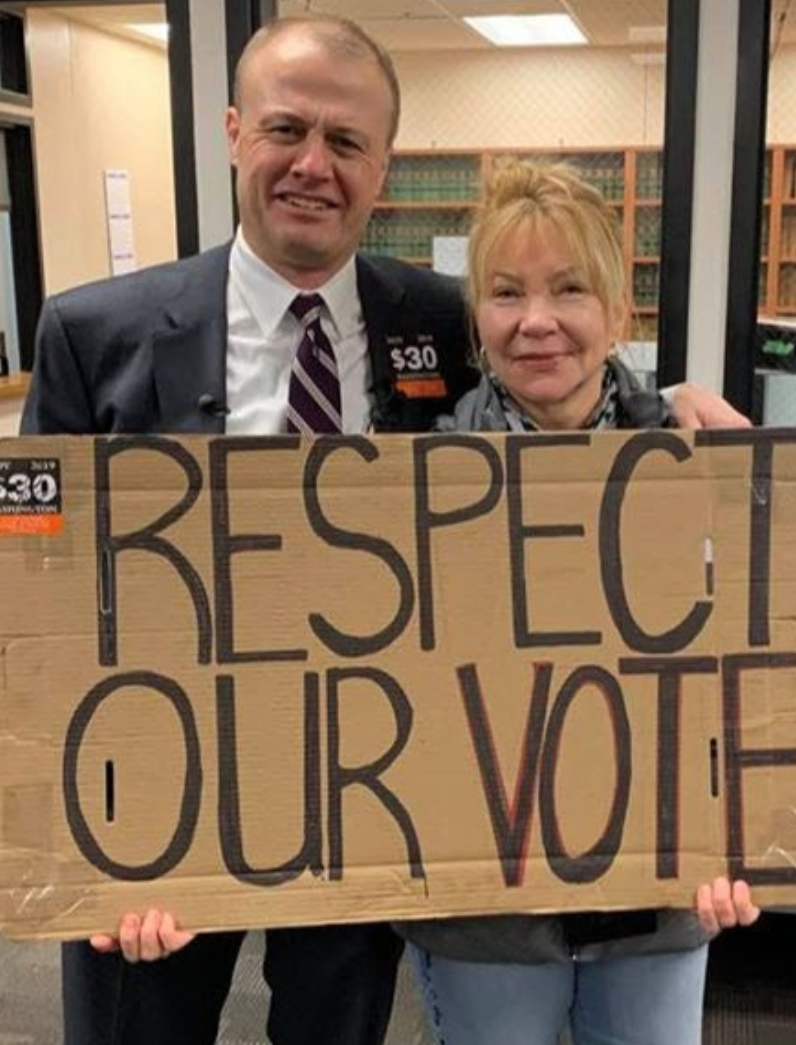 It's been 3 1/2 years and I still haven't renewed my car tabs.
I refuse to.
Is it any wonder Bully Bob Ferguson is so desperate to impose a lifetime ban on all my future political activity?
Last August, when the AG took my house and drained all my bank accounts (I was allowed to keep $1500), things for me and my family shifted from REALLY WANTING help to DESPERATELY NEEDING help.
I urge you to help me survive this political persecution by donating to my legal defense fund so that Richard Sanders can get the AG's ridiculously unconstitutional ruling overturned so this never happens to anyone else. 
Mail your check to: Tim Eyman Legal Defense Fund, 500 106th Ave NE #709, Bellevue, WA, 98004
Or donate online:
By GiveSendGo (credit/debit card)
By Paypal
By PayPal (credit/debit card) 
With your help, I will keep fighting for the people across our nation with initiatives, lawsuits, lobbying, and helping elect more freedom-loving elected officials.
I love you all.
Onward!
Tim Eyman
You can call or text me anytime: 509-991-5295
You can email me anytime here: Tim@TimDefense.com
(I can't access any of my other email addresses — grrr!)
For more details on this, go to: TimDefense.com